Hawkins outlines seven lessons from the lives of Norris, Truett during Southwestern Seminary chapel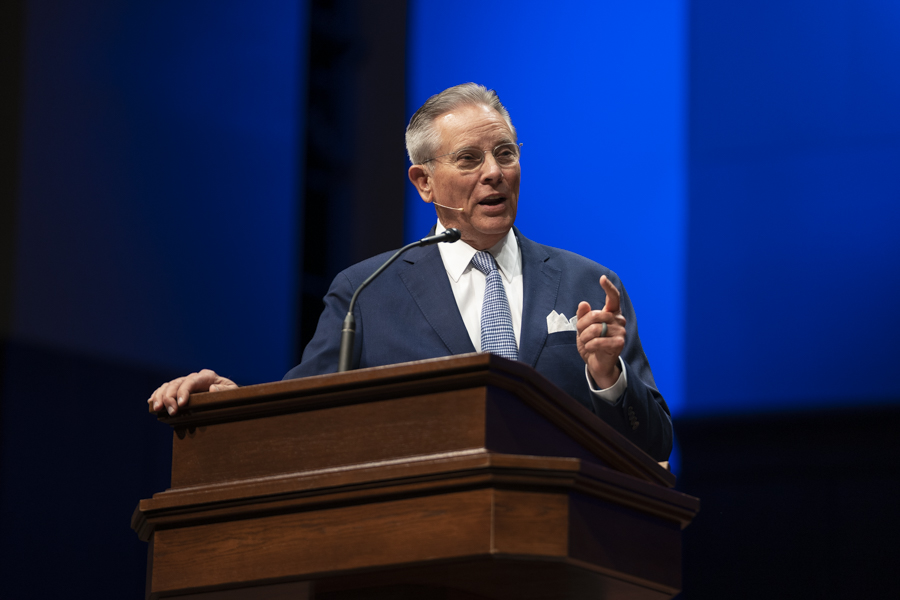 In his September 28 chapel address at Southwestern Baptist Theological Seminary and Texas Baptist College, O.S. Hawkins, president and chief executive officer of GuideStone Financial Resources, encouraged students, faculty, and staff to remember "their works follow them," drawing upon lessons from the lives of Baptist legends, J. Frank Norris and George W. Truett.
In his welcome of the 1974 Master of Divinity and 2020 Doctor of Philosophy alumnus, Southwestern Seminary and TBC President Adam W. Greenway said, "There are too few leaders in ministry who finish well. O.S. Hawkins is finishing well."
Greenway said he takes "great comfort and inspiration" in the way Hawkins has lived his life and is transitioning GuideStone's leadership to President-elect Hance Dilbeck, a two-time graduate of Southwestern Seminary and a 2021 distinguished alumnus.
Hawkins retires from the Southern Baptist entity at the end of 2021 after leading the organization since 1997. Previously he served as pastor of several churches in Florida and Oklahoma and was pastor of the First Baptist Church of Dallas before assuming the chief leadership position at what was then the Annuity Board of the Southern Baptist Convention. A Fort Worth native, Hawkins is a distinguished alumnus of Southwestern Seminary and author of more than 25 books.
As Greenway introduced Hawkins and his wife, Susie, he noted the chapel attendance of Jack Graham, pastor of Prestonwood Baptist Church in Plano and a two-time Southwestern Seminary graduate, and Paula Hemphill, wife of the seminary's seventh president, Kenneth S. Hemphill, and a 2003 Master of Arts in Missiology graduate of Southwestern Seminary.
Drawing from the lives of Norris and Truett as outlined in his recently released, best-selling book, In the Name of God, Hawkins directed the congregation to Revelation 14:3. Reminding the audience "their works follow them," Hawkins identified seven lessons from the "iconic, titanic figures" of Norris and Truett, whose lives were closely intertwined in Baptist denominational matters, including Southwestern Seminary, sometimes resulting in strong disagreement and conflict. Hawkins' book is based upon his doctoral dissertation at Southwestern.
Truett, who led the First Baptist Church of Dallas from 1897-1944 and was chairman of the Southwestern Seminary board of trustees for many years, was chairman of a committee charged to find land for the seminary to relocate from the campus of Baylor University in Waco. Truett, who did not want the seminary moved from the Waco campus, selected two small plots of land in the Oak Cliff neighborhood south of downtown Dallas. Founder and first president, B.H. Carroll, did not approve of Truett's selection of property large enough for only two houses, Hawkins explained.
Norris served as the pastor of the First Baptist Church of Fort Worth from 1909 to 1952 and, early in his ministry, was owner and editor of the Baptist Standard. The Fort Worth pastor championed Carroll's desire by heavily promoting the seminary in the weekly Texas Baptist paper. In 1909, at a meeting of the Baptist General Convention of Texas at the First Baptist Church Dallas, Fort Worth was selected as the new home city of the young seminary. Norris raised half of the needed $100,000 from his own church members to relocate the seminary to its current location on Seminary Hill, Hawkins noted.
Acknowledging the role of the Fort Worth church in the salvation of his father and great-uncle, and his own relationship with the downtown Dallas church, Hawkins said the first lesson from the lives of Norris and Truett is to "never allow denominational loyalty trump doctrinal loyalty and fidelity," citing the challenge issued by Baptist leader J.B. Gambrell.
The second lesson, Hawkins said, is "the fight for right never ends."
"You can't change a denomination from the outside," Hawkins said in reference to Norris' desire to transform the Southern Baptist Convention, but by doing so by "railing against" the convention and setting up competing meetings and organizations. However, Norris' desires were realized 30 years after his passing when leaders of the SBC Conservative Resurgence began to achieve denominational change by working within the system, unlike Norris' tactics.
Noting a large number of his fellow seminarians who have left ministry, Hawkins said "integrity is your best asset" in ministry, a third lesson and something that was true of Norris and Truett, he said. Secondary to integrity is intellect, intensity, charisma, oratory ability, and passion.
Explaining most works about Truett omit any criticism because people "revered and reverenced" him, Hawkins said most everything written about Norris has "reviled him."
"Balance is the key to life and ministry," Hawkins said was the fourth lesson. "There is some good in those whom we the think the worst."
As a fifth lesson, Hawkins also encouraged the gathering to view culture through the lens of Scripture, rather than allow culture to dictate their interpretation of the Bible, citing the failures of both men on the issue of race.
"It's a thin pancake that doesn't have two sides," said Hawkins, citing his sixth lesson. All Christians must recognize there are two sides to every story.
Concluding his message with "don't wait until it is too late to reconcile your relationships," Hawkins said was the final lesson from the lives of Norris and Truett. When the longtime pastor of First Baptist Church of Dallas was near death with painful bone cancer and unable to leave his home, Truett told his assistant, Bob Coleman, he did not want to die with bitterness and asked him to call Norris. The call was never made, Hawkins explained, because Truett's wife, Josephine, forbade Coleman from making the call.
"One of the most beautiful reconciliations in all the world didn't take place," Hawkins said.
Reading from Hebrews 12:1-3 and the great cloud of human witnesses, Hawkins concluded his message by encouraging the assembly to model their lives after Jesus, rather than fallible men.
The entire sermon can be viewed here.
Chapel is held every Tuesday and Thursday morning at 10 a.m. (CT) in MacGorman Chapel on the campus of Southwestern Seminary. Chapel may be viewed live at swbts.edu/live.