Newest Southwestern, TBC graduates reflect on years of equipping on Seminary Hill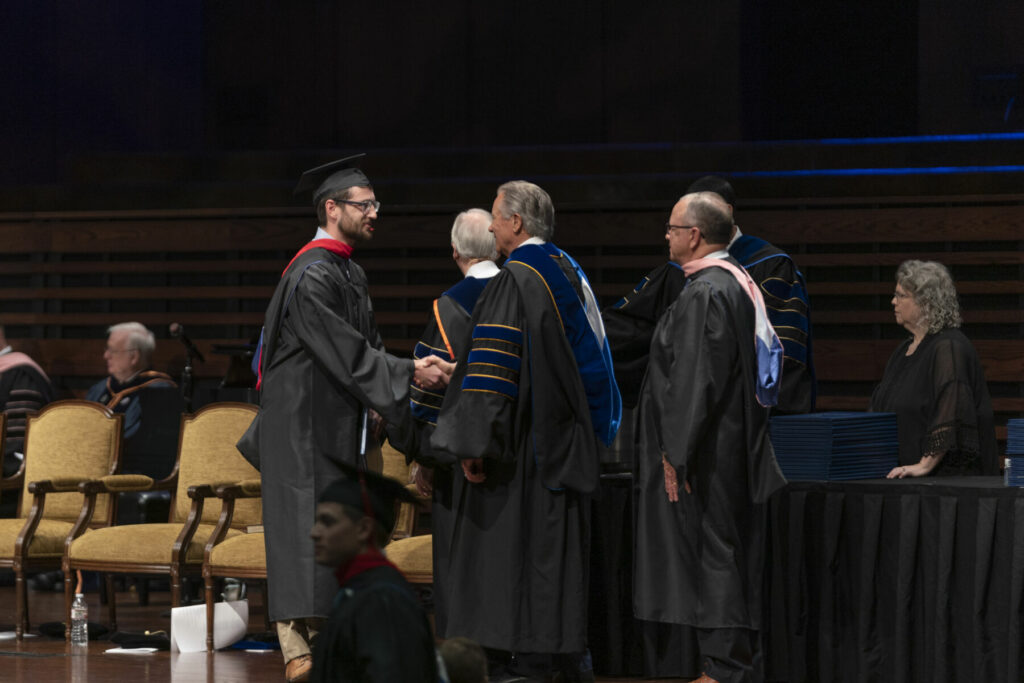 The 2023 spring graduating class of Southwestern Baptist Theological Seminary and Texas Baptist College who received their certificates and diplomas during the May 5 commencement ceremony represented 31 states and United States territories and 24 countries. As men and women have been equipped on Seminary Hill to live their callings, several graduates reflected on earning their doctoral, master's, and bachelor's degrees from the Fort Worth-based institution.
Harrison Frueh earned a Master of Divinity from the School of Theology. A native of Houston, Texas, Frueh was the 2023 recipient of both the President's Scholar Award for the School of Theology and the Lifeway Leadership Award.
While in college and attending Central Baptist Church in College Station, Texas, Frueh's college minister, Wes Wilkinson, a 2016 Master of Divinity graduate of Southwestern, helped him "understand how I should view seminary as preparation for God's calling on my life, and he shared how his experience at Southwestern prepared him for ministry," Frueh explained.
Frueh said during his time of study at Southwestern he has learned that "all of my studies are ultimately to be given to God as an act of worship, and all my studies serve the purpose of building up Christ's church and serving His people." He added that his seminary education has been focused on "exalt[ing] the name of our Savior" and seminary has "equipped" him to "take this same attitude of desiring not my glory, but God's" as he serves the local church.
Frueh recently began serving as the pastoral resident at First Baptist Church in Mansfield, Texas.
With the "support" of her entire family from her native Tennessee, Kelsey Stookey, earned her Master of Divinity in theology from the School of Theology. Originally from McKenzie, Tennessee, Stookey said she chose to study specifically at Southwestern Seminary because of the institution's "history of equipping the saints and sending them out with a Great Commission focus." She explained she selected the M.Div. as her degree program because "it was the most expansive degree program."
Stookey said she loves both "learning" and "languages" and the theology track allowed her "to focus on the biblical languages which helps me be a better expositor of Scripture." Stookey, who is on staff at the Fort Worth Pregnancy Center, explained that she was initially led to seminary as she was working on a church staff with college students. She said she was "burdened and challenged by the answers that I did not have for the women that I was discipling" and her "heart is to serve women to the best of my ability and I knew that seminary was the next step of faith for me."
During her time of study at Southwestern, Stookey said she has "learned about the importance of humbling serving others while always submitting to the lordship of Christ over pleasing people." She adds that through her classes she has "learned how to interpret Scripture with the Holy Spirit's guidance and how to teach it to others" while simultaneously being "equipped through classes on marriage, gender, grief, and apologetics to engage the culture with biblical truth to combat the ongoing false narratives and counsel them biblically in accordance with the truth."
Lance Crowell, a Houston, Texas, native who currently lives in Argyle, Texas, earned a Doctor of Education in organizational leadership. Crowell, who serves as the executive pastor at Parkway Hills Baptist Church in Plano, Texas, previously served with the Southern Baptists of Texas Convention in Grapevine for 17 years, most recently as the senior strategist in the Digital Ministries and Communications Department.
Crowell, a 2005 Master of Divinity graduate of Southwestern, was "attracted to the newly developed Ed.D. program" he said because he "desired the scholar-practitioner degree that would allow me to have a research base while still understanding practical ministry needs." Crowell said during his time of study at the institution, he has "learned so many things" as he has "been taught by great scholars who have so much practical experience" which has given him "a much better sense of how to research and evaluate a topic or an area to get a better picture of how to approach topics or ministry needs."
Crowell was the 2022 recipient of the Albert G. and Ethel Marsh Memorial Award. Named after the parents of the late distinguished professor emeritus of foundations of education, Leon Marsh, the award honors the outstanding advanced studies student in the Jack D. Terry School of Educational Ministries as nominated by the Terry School faculty based on scholarship, experience, and potential for leadership.
Yakima, Washington, native Christina Noel Sandra earned a Doctor of Educational Ministries in executive leadership. Sandra, who serves as the associate minister to women at Christ Chapel Baptist Church's campus in Burleson, Texas, said during her Master of Arts in Christian Education studies at Southwestern, "God took hold of my life and my personal walk with the Lord grew more than any season of life before then." She explained the Fort Worth-based institution "has been a place of immense academic and personal growth" for her and she knew after graduating with her MACE in 2013, "the Lord would bring me back one day for my doctorate."
Sandra noted that during her time at Southwestern she has had the "privilege of growing leaps and bounds" academically.
"I have been challenged, I have been stretched, and I have been molded for whatever God wants me to do next," she added. "I have had the chance to interact with professors and peers that have encouraged me and continued to equip me to serve better."
After serving in children's ministry for over 20 years, "God led" Heather Walden to Southwestern Seminary to "further my theological education in a more comprehensive and well-rounded atmosphere," the Aubrey, Texas, native explained.
Walden, who currently serves as the preschool and children's minister at First Rock Fellowship in Aubrey, Texas, earned a Master of Arts in Christian Education with a concentration in childhood and family ministry. Calling her time at Southwestern "instrumental" in equipping her with leadership capabilities and "enhancing opportunities to serve the Lord outside the church walls," Walden said her time of study has also "been valuable for me to network with other ministers and has helped me to create friendships beyond the classroom."
Walden was awarded the 2023 Layden and Granger Childhood Education Award, which is awarded to the childhood education student who has a strong academic record, is committed to children's ministry, and has potential for effectiveness in childhood ministries as identified by the faculty of the Terry School.
North Carolina native James "Luke" Waters earned a Master of Divinity with a concentration in worship leadership from the School of Church Music and Worship (SCMW). Waters was the SCMW's 2023 President's Scholar Award recipient.
When Waters transferred to Southwestern from a different seminary, he said he was not originally a music student. However, he explained he "made the switch because I felt God was leading me to pursue worship studies, and I believed that Southwestern's School of Church Music and Worship would be the best place for me to get the training I needed." Calling the SCMW "unique," he said the school is "the only free-standing school of music among the six Southern Baptist seminaries" and "being at Southwestern afforded me some great opportunities that I would not have had anywhere else."
Through taking a combination of "practical, skills-based courses" and "theology and philosophy courses," Waters said he feels "prepared for a lifetime of constructing worship services that are biblically faithfully, musically strong, and church edifying." Waters said though he could sing when he began as a student at Southwestern, he "did not know how to lead people in worship." He has assisted Bill Howell, minister of traditional worship at Travis Avenue Baptist Church in Fort Worth, lead choir rehearsals.
On April 30, Waters was called as the worship pastor at First Baptist Church of Concord, North Carolina, nearby his hometown of Kannapolis.
Laura Pepper, who earned a Master of Divinity with a missions concentration from the Roy J. Fish School of Evangelism and Missions, said, "The main thing I have learned is that the more I study about the Lord, the more there is to know about Him."
Pepper, a native of Sugar Land, Texas, said in high school "God gave me a heart for Latin American missions" and while she was in college the Lord called her to seminary – specifically to Southwestern Seminary through "lots of prayer" and meeting with the pastor of her home church who is also an alumnus. While Pepper said during her time of study at Southwestern the Lord not only continuously showed her "how deeply He loves me and how He is insurmountably great than anything else," she also learned "the importance of worshipping God with my mind."
"Studying the Word and applying what I was learning in the classroom was very worshipful to me and helpful in my relationship with the Lord," Pepper explained. "My time at SWBTS has been immensely valuable in training me to serve the Lord."
Pepper, who will be married following graduation, was the 2023 recipient of the R.S. and Pearl Hopson Mission Award, benefitting the outstanding master's level student who is graduating and has prepared for foreign missions service. Pepper and her future husband plan to serve as church planting missionaries in a Latin American country, but her "intention is to continue my studies once I am on the field because this place is so special in helping equip students in their calling."
Tommy Boughton, a native of Granbury, Texas, was led to study at Texas Baptist College after several staff members of Acton Baptist Church in Granbury, who are alums of Southwestern Seminary, recommended he attend the seminary's undergraduate college.
Boughton, who is the modern worship leader and young family interim pastor at Acton, earned his Bachelor of Arts in Christian studies and plans to pursue his Master of Divinity at Southwestern following graduation. While he "could not begin to account for all that" he has learned at TBC, Boughton said "more than anything" he has learned "how to remain steadfast in serving the Lord, what it truly means to be a disciple of Christ, and how to better love others."
He added that he "thank[s] God" that he was taught by "godly" male professors and was "surrounded by believers of all ages and backgrounds" which has given him "a glimpse of God's Kingdom," including "a diverse people, in a place, in the presence of the Lord."