Newest Southwesterners welcomed to Seminary Hill during new student orientation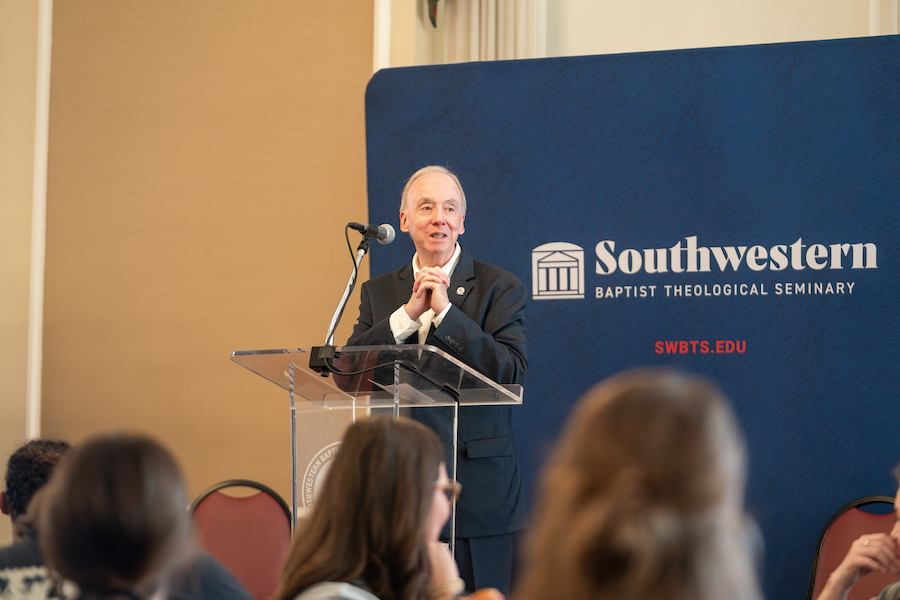 Like generations of students before them, new students at Southwestern Baptist Theological Seminary and Texas Baptist College were welcomed Aug. 11 for new student orientation in Truett Auditorium in the B.H. Carroll Memorial Building to begin a full day of getting acclimated to the Fort Worth campus before classes begin for the fall semester.
"We are interested in the kingdom of God," said W. Madison Grace II, newly appointed provost and vice president for academic administration and dean of the School of Theology, in his opening remarks to the institution's newest class. "We're interested in how you are going to be doing future work for God's kingdom in whatever He is calling you to do."
Harkening to his own new student orientation at Southwestern 20 years ago, Grace told the newest Southwesterners to be "open" to what God will do during their time on Seminary Hill. Grace recounted that he thought he would be at the Fort Worth campus for three years to "be trained and equipped" for what he believed God was calling him to do, but he explained he remains at the seminary as he is "able to pour back into students with phenomenal faculty that we have here as well."
Grace said the faculty and staff serve at Southwestern and TBC to help fulfill the institution's mission which is to "glorify God by providing theological education for individuals engaged in Christian service, assisting the SBC, the Southern Baptist Convention, the churches of that convention by biblically educating, equipping Christian men and women for ministry, which encourages the priority of the Great Commandment and fulfillment of the Great Commission."
Grace explained the mission is not "just words on a page" but the Great Commandment and the Great Commission are "the heartbeat of who we are."
"Our job is to help equip you to go out into the darkness, to shine the light of Jesus Christ, calling people to salvation, discipling people to become more conformed to the image of the Son," Grace said. "And that's an exciting thing that you get to do and here at Southwestern we want to equip you to do that better and better."
Being equipped to fulfill the Great Commission among his fellow East Asians living in the United States is what compelled Hong Chen* to begin studying toward his Master of Theological Studies degree. Chen, who heard that Southwestern is a "good school" from a friend, said he looks forward to studying "more about [the] Bible."
Following Grace's remarks, members of the Office of Admissions led new students on a tour of campus to familiarize them with buildings, offices, and centers before lunch with President David S. Dockery, himself a 1981 Master of Divinity graduate of Southwestern. Lunch also featured a faculty panel that included Carl J. Bradford, interim associate dean of the Roy J. Fish School of Evangelism and Missions; Micah D. Carter, associate dean of Texas Baptist College; Blake McKinney, assistant professor of history and humanities; and Lilly H. Park, associate professor of biblical counseling.
Dockery highlighted the "continuity" of the faculty of Southwestern Seminary from 1910 when the campus relocated to its current location in Fort Worth from Waco to the present day.
In 1910 the seminary "hired a young theologian named W.T. Connor," Dockery explained. "W.T. Connor taught on this faculty for 39 years, and in 1949, his best student was named James Leo Garrett, who began teaching on this faculty in 1949. Now one of his best students, Malcolm Yarnell, teaches theology. So, we're only three generations from the very beginning of days here at Southwestern – that kind of continuity, that kind of wonderful tradition that has been passed on."
Dockery added that Yarnell was Grace's doctoral supervisor when he was a student "so the tradition continues and will be carried forward."
Dockery told the new students they are "part of a wonderful legacy." He said, "Not only do we have new faculty bringing fresh ideas and new energy to our work, but there is great continuity with the wonderful heritage of this place that goes back 115 years that has prepared more people to serve globally or internationally than any other seminary in Christian history."
Calling Southwestern a "kind of a university of seminaries," due to the "thread of learning" among the various schools, Dockery noted, "People who have gone through the halls at Southwestern Seminary are pastors and counselors and church musicians and worship leaders and Christian educators and youth ministers." Highlighting the breadth of theological equipping available at Southwestern, Dockery said, "You think of an opportunity to serve and Southwestern has that opportunity to prepare someone in that particular world; in that way, Southwestern is very distinct."
Dockery said he has previously told students that an education at a theological seminary is three different parts.
"It's one-third of what takes place in the classroom – the investment of a faculty member," Dockery expounded. The second part is comprised of the assignments the faculty member assigns that "encourages you to read outside of the classroom," he said, adding students will "learn from authors and people from elsewhere that helps shape your thinking."
"The third aspect of it is your relationship with others sitting in this room," Dockery reminded the new students. "You will learn from your peers as you discuss these things and learn together and challenge each other in different kinds of ideas." He noted the students will have "these conversations in which iron sharpens iron and builds others up and you become a better thinker who is better prepared to serve Christ for years and years."
Joshua Okoye, a native of Houston, Texas, said he decided to pursue his Master of Divinity with a concentration in pastoral ministry, not only after researching and learning about Southwestern from the institution's website, but also after a campus visit. He explained during his campus visit hearing what Dockery said about the seminary, as well as meeting the faculty and staff and "the convictions that they had and the things that they're focused on in how to prepare us for ministry" made him want to prepare for pastoral ministry at Southwestern.
"I'm looking forward to taking classes and really just applying what I'm learning to ministry, because I think that's really what it's about," Okoye said. He added that during his campus visit, it was emphasized his seminary studies do not "replace the church," but rather his equipping "is a tool to help you with that" and he anticipates "getting a more solid understanding" and "meeting more people to learn ministry with and to be mentored" alongside as he is on Seminary Hill.
A native of Crowley, Texas, Lexi Turner said she chose to study at TBC because the worship program is "the best of what I've seen" which "drew me here mostly." Following graduation with a Bachelor of Music in worship studies, Turner said she hopes to work in a church or help lead worship at ministry events such as Disciple Now.
The campus community on Seminary Hill is why Olivia Hagg said she chose to pursue a Bachelor of Arts in Humanities at TBC. The Frisco, Texas, native said the courses within the program are "the types of classes" she has "always wanted to learn." In addition to her studies, Hagg said she looks forward to "making new friends" and "getting involved in the community with classes" and TBC Choir, and "learning new things."
Kaitlyn Calhoon, a native of New Mexico, will begin pursuing a Master of Divinity in the School of Theology with a concentration in family and children's ministry. She said that she chose to study at Southwestern because of the "foundational elements" of the institution's beliefs, but also at the encouragement of her pastor, Jonathan Richard, who is the chairman of the seminary's Board of Trustees.
"The more I've learned about Southwestern, the more I just felt affirmed and it's where I wanted to be," Calhoon added. While she explained she currently feels called to church ministry as a children's minister, Calhoon said she holds "that with some grace" because she could "see that changing."
After lunch, students were invited to learn about the organizations on campus, including the World Missions Center, the Women's Center, the Recreation and Aerobics Center, and the International Student Services Office, among others. The afternoon also featured an all-campus ice cream social.
The day concluded with a church fair and block party that included representation from more than 40 area local churches. Due to an excessive heat warning in the Dallas-Fort Worth Metroplex on orientation day, where the temperature topped 100 degrees for the 19th consecutive day, the event was moved indoors to the Riley Center located on campus.
The fall academic semester begins today.
*Name changed for security.