Southwesterners serving overseas return to Seminary Hill for Global Missions Week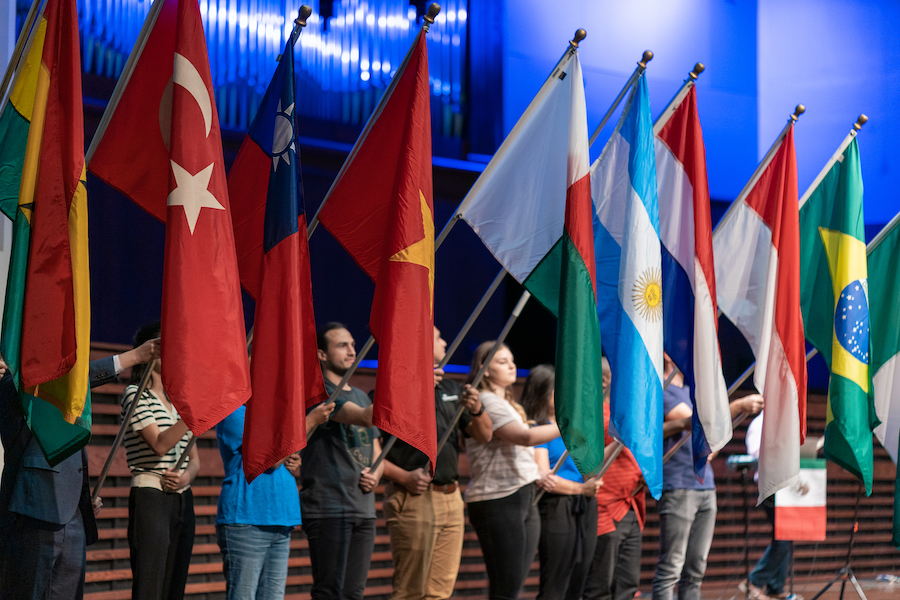 As the flags during the "Parade of Nations" came through the center aisle of Truett Auditorium on the campus of Southwestern Baptist Theological Seminary during Global Missions Week in the mid-1990s, Jamie* wondered what the non-descript grey flag among all the multi-colored flags represented.
After tracking down a representative from the International Mission Board to ask the meaning of the grey flag, the native of the southeastern region of the United States learned the flag represented "those nations have no representation or they have no presence of Gospel witness there," his wife, Chris*, remembered. "There's no voice. No Gospel witness. No incarnational witness."
"That was really God's call on my life to go after 'grey flag' nations," Jamie recalled.
Jamie and Chris, who are both alumni of Southwestern Seminary, are among more than a dozen IMB missionaries who will be on Seminary Hill the week of Sept. 5-8 for Global Missions Week, an annual week organized by the seminary's World Missions Center to encourage students in their missionary calling and educate others about the need for a Gospel witness around the world.
During the week, Southwestern students, faculty, and staff will have the opportunity to interact with missionaries representing all eight affinity groups of the IMB, many of whom were educated and trained at Southwestern Seminary. Historically, Southwestern has sent more missionaries for international mission service through the IMB than any other seminary in the history of theological education.
Jamie and Chris, who have served with the IMB for more than two decades, are among that number. Jamie earned a Master of Divinity and a Master of Arts in Biblical Counseling from Southwestern while Chris, a Texas native, is a few hours shy of having completed her Master of Arts in Marriage and Family Counseling.
The IMB's structure for missionaries is divided into two components: global engagement and support services. Global engagement includes church planting, disciple making, and healthy church models, while support services include caring for frontline workers in areas including medical care and member care. Jamie and Chris have served in both areas.
The couple served 17 years in Central Asia and North Africa and the Middle East (NAME) engaging in frontline work, where they served in "church planting [and] making disciples," in zero-to-one contexts, Chris said. Zero-to-one contexts are areas where there are not any believers and the missionaries work to develop a Gospel strategy that leads to the first believer or a church.
However, the couple has served in the IMB's member care for the last four years. Chris said the opportunity to serve in member care has "been a really sweet gift to us."
"We loved frontline work and now we get to serve people that do frontline work and help keep them on the field and make sure that they stay healthy," Chris explained. "We know how hard that work is, how despairing it is, how discouraging it can be when you just can't get any traction and you feel like what you do doesn't really matter."
She cited the example of King David from Scripture and the discouragement he endured. Chris added that keeping missionaries healthy is a testimony to "longevity on the field."
"The more discouraged you are, the quicker you leave, because you just feel like what you do doesn't matter," Chris explained. "There's that leg of support services of holding arms up of those who do the frontline work that we get to be a part of now and it's been really sweet."
The couple, who met as students at Southwestern, looks forward to participating in the events of Global Missions Week because sharing the stories from the field "reminds us of what God is doing," Chris said.
"We're coming home fresh from the field with stories," she added, noting the more they have the chance to share the stories of God's work, "the more you realize there are other simple things where He's been so faithful."
Dan Potter, a native of Combine, Texas, and his wife, Margie, a native of Mesquite, Texas, were "corporate grinders" in the business world for the entirety of their careers, Dan said. The couple was living in Fort Worth and attending Southcliff Baptist Church in the city.
In 2015, Dan was watering plants in his yard when he heard the Lord speak, "Whatever I tell you to do, do it," he remembered. "And things started radically changing after that." He explained that "unbeknownst" to him, Margie "had heard a faint whisper, a faint call to missions when she was on a mission trip to Alaska when she was 15 years old." Her answer to God's call as a teenager was "not 'no' but, 'God, when you call, my answer is yes.'"
Dan and Margie, who are both Master of Theological Studies students at Southwestern, are part of the IMB's Macedonia Pathway, which allows them to serve on the field while also taking classes. However, prior to enrolling in classes at the seminary, the couple served two years with Lahaina Baptist Church, a Southern Baptist church on the island of Maui. They were engaged in an intentional internship program to learn how to do ministry and gain a "better understanding, like what it would look like to kind of be living in a different culture and Hawaii was very different," Dan said.
During their time on the Hawaiian Islands, Dan recalled that "God really changed our hearts for students" as "there was no student ministry at the little church that we were volunteering at." With the Lord's prompting, the couple helped create a youth program.
"Sometimes we think that sin has an age limit, and we were just seeing young lives – 13, 14, and 15 – that were just being ravaged by the effects of sin, but in a new and unusual way, through the effects of social media, through the effects of online pornography," Dan added. "We were seeing young lives that were being just absolutely destroyed by the cell phones they were holding in their hands."
When the couple returned to the continental United States and began the application process with the IMB, Dan said they had a "real passion to invest in young people." He remembered they specifically told the board, "We have a passion for young lives and our next generation of missionaries. Do you have any jobs that work specifically with the next generation?"
The Lord used Dan and Margie's passion to send them to Guadalajara, Mexico, where they serve as Next Generation strategists. The couple ministers among the American Peoples affinity group, which includes two primary student strategy programs: the Summer Sojourner Program and Hands-On.
Through the Summer Sojourner Program, the couple works with U.S.-based students who desire to serve with the American Peoples affinity, which includes Mexico and South America, for seven-to-eight weeks in the summer. The students spend a week in orientation in the U.S., six weeks on the field in country, and a few days of debriefing upon return.
The Potters "specifically operate" the Hands-On program, Dan explained. The fall and spring semester-long programs allow U.S.-based students to spend a semester serving the American Peoples. Through the facilitation of the program, Dan and Margie spend a week with the students at the IMB's training facility teaching the missionary task, what it means to abide in Christ on the field, safety as they serve, cross-cultural boundaries, emotional intelligence, and honesty, integrity, and ethics on the field – "basically a mini-FPO, a mini field personnel orientation, but in six days," Dan added referring to the longer training IMB missionaries receive.
The students spend the semester serving in Mexico or South America as Dan and Margie "monitor" and "mentor" them, Dan explained. When the students return to the U.S. at the end of the semester, Dan and Margie hold debriefing sessions with them to help the students "return well."
"We routinely see that God changes the students radically while they're on the field," Dan noted. "And although they're coming back greatly changed, they're coming back into environments that have not changed."
As Dan spends time on the Southwestern campus during Global Missions Week, he is looking forward to sharing "that if a young person is wanting to experience the missionary call, the first thing they're going to have to do is prepare."
Dan said he and Margie "teach a message of first and foremost young lives abiding in Christ."
"We see a lot of young lives that might be interested in missions or might think that it's fascinating this idea of the luxurious and adventurous lifestyle of a missionary," Dan remarked. "But they're not preparing in the moment."
Dan said he looks forward to interacting with students who are interested in missions and asking them, "How are you abiding in Christ and how are you staying busy as you're waiting to hear from the Lord?" with the latter question referring to how they are being a missionary in their current context.
"He is wanting to prepare you where you're at, for where He will have you be," Dan concluded. "It's not this idea that we sit on our hands waiting for God, but our hands are actively being called into service, as we're waiting to hear where God will move us next."
More information about the events of Global Missions Week can be found here.
 *Names changed for security.