Lewis aims to shape the next generation of church leaders through academic education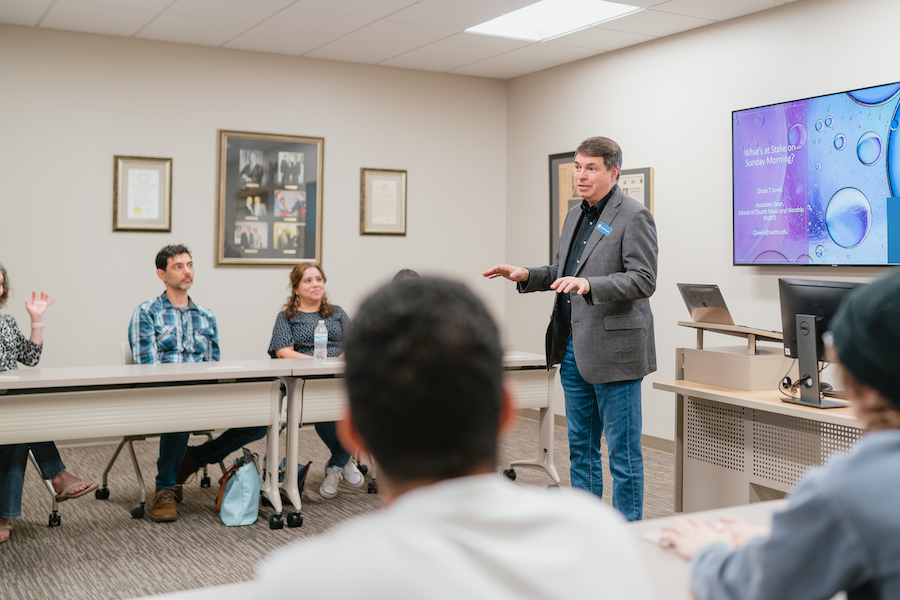 Most people can look back at their lives and find someone who helped inspire them to pursue a certain career. Charles "Chuck" Lewis, associate dean of the School of Church Music and Worship and professor of church music and worship at Southwestern Baptist Theological Seminary, had that experience and aims to be that influential person in his students' lives.
Growing up in a small town in South Carolina, Lewis was involved in church at a very young age. Lewis said that the church he grew up in, Fairview Baptist Church in Newberry, South Carolina, was "almost in the front yard" of his house.
"It was a wonderful church and a wonderful place to grow up," Lewis said. "It is where I was confronted with the Gospel. The confrontation of the Gospel that I am sinful and lost without the Lord was made really clear by the faithful preaching of that Gospel at that tiny church."
At age 13, Lewis gave his life to the Lord and was born again and baptized. Following his salvation, Lewis began to use his abilities in music to serve the church.
"I was a piano player at the time and started playing for Sunday school," Lewis recalled. "Eventually, I made it to big church, playing piano and sometimes the organ that was there in the church."
While in high school, Lewis realized that he had a desire to teach. Not only to teach, but to prepare and disciple musicians in the same way his band director had prepared and discipled him.
"I decided to go to the University of South Carolina largely because of the influence from my Christian high school band director," Lewis said. "Even though it was a public school, she would pray in Jesus's name and instilled Christian values in the lives of her students."
His band director had taught three generations of students in that school and Lewis wanted to have a similar impact on the lives of different students as she did.
For Lewis, the desire to teach was coupled with a calling to ministry that he felt while in college.
"The Lord planted a seed in my heart and mind about ministry while I was in college," Lewis recalled. "Sometimes, it takes a long time for a seed to kind of take root in the heart and for the clarity of what that meant, what a calling to ministry would mean."
Following graduation from the University of South Carolina, Lewis became a high school band teacher and continued teaching in public high school for three years. During that time, he also became a part-time worship leader and music minister at a rural church in Gilbert, South Carolina.
Lewis's goal in his educational life was to pursue a master's degree. With this goal in mind, Lewis moved to Tallahassee, Florida, and earned a Master of Education from Florida State University.
"I left teaching and went to Florida State with the full intent of going back to South Carolina and teaching," Lewis said. "But by the end of my time at Florida State, I was really beginning to wrestle with this call of the Lord on my life and it was still not totally clear what that was."
After reaching out to his major professor at FSU, Lewis felt a confirmation of his calling to devote his life to ministry and serving the local church.
Following his graduation from Florida State, Lewis decided to pursue a Master of Music with a concentration in church music at Southwestern Baptist Theological Seminary.
"You know, I had the music degrees, but I didn't have great theology yet," Lewis recalled. "I looked all over the U.S. to find a place that was both musically strong and theologically robust, and there was one choice in my mind – Southwestern."
Following his time at Southwestern, Lewis served local churches from Florida to Louisville, Kentucky, for a combined 26 years. Lewis served Hurstbourne Baptist Church in Louisville, Kentucky, for three years while teaching at Southern Baptist Theological Seminary. When the opportunity came for Lewis to join the faculty at Southwestern, he felt that there was "unlimited opportunity for growth" in the SCMW.
Since joining Southwestern Seminary's faculty in 2019, Lewis has been a part of retooling the SCMW's degree programs to both recognize the past and honor modern worship leader needs.
"We have retooled our degrees and tried to reshape them really to serve the modern church in the 21st century," Lewis said. The SCMW students "get both classical-traditional training, and they get a modern and contemporary side of their degree."
In the classroom, Lewis aims to not only curate musically excellent students but also pastors and ministers who lead worship.
"The singing part is the easier thing, but the cultivation of the pastoral heart and mind that has to be grounded in the Word is tougher," Lewis said. "We're literally putting the words of worship in the mouths of people, and I think it is really important to help give a song and its theological grounding and the context when leading."
Nelly Juarez Villegas, a Master of Divinity with a concentration in worship leadership student at Southwestern Seminary from San José, Costa Rica, is Lewis's teaching assistant. She said that Lewis is a "very thorough" professor and teacher.
"He likes details, and he wants to make sure that students are well equipped in whatever subject he is teaching us," Villegas said. "He is very willing to help, he is very humble, and he gives a good amount of work, not to overload you, but to make sure that you understand what you are doing and that you are developing your skills."
Outside of teaching, Lewis leads the ensemble Southwestern A Cappella, as well as serving as the worship leader in the chapel services on campus on a regular basis. Lewis also travels with students on concert tours and conferences.
"On these kinds of trips, my role is to facilitate their ministry," Lewis said. "It's not me doing the ministry, it's me getting them ready and equipping them and empowering them to do that which God has called them to do. It's really a beautiful thing to watch."
Lewis currently serves as the service accompanist on Sunday mornings and on Wednesday nights with the choir ministry at First Baptist Church of Benbrook, Texas.
Lewis follows God's calling on his life to both serve the local church and teach the next generations how to serve the church well. He wants to be the inspirational professor and teacher for his students to hopefully change their lives the way his was changed through his high school band director.