Micah Carter teaches students to surrender to God's will from his own experience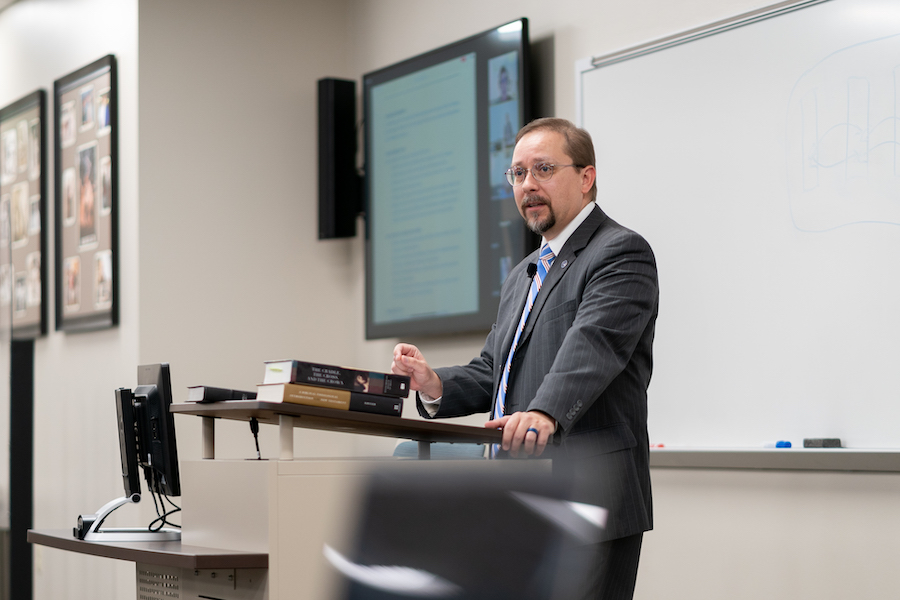 From California to Texas, and a few stops in between, Micah Carter, associate dean and assistant professor of theology at Texas Baptist College (TBC), has tried to follow God's will for his life every step of the way.
Growing up in California, Carter was raised in a Christian home under the influence of his grandfather, a Baptist minister and church planter.
"A lot of my childhood was observing and participating in going to church plants all along the West Coast," said Carter. "That is how I was raised in the context of the Gospel, and love for the Bible, evangelism, and worship."
In sixth grade, Carter's family moved from California to West Helena, Arkansas, where he lived until he graduated high school and went to college.
"After I graduated high school, God took me to a small Baptist college in north Mississippi called Blue Mountain College," said Carter. "While there, I truly came to know the Lord and was saved to know Christ there."
While at Blue Mountain College, Carter felt a strong calling on his life that could not be ignored.
"Consequently, I received a call to ministry while at that college," said Carter. "I began to serve churches when I was 19 years old and that is where it all started for me."
Carter originally went to college to pursue a pre-medicine degree with the hope of becoming a surgeon of some sort. When he felt God's call to go into vocational ministry, his plans changed.
"I was on the pathway of becoming a surgeon for the first year-and-a-half of my time at Blue Mountain," said Carter. "When I felt called to ministry, I was considering if the Lord was calling me to missions as a medical missionary, but I had enough sense and love for the local church that when asked to lead a student ministry, I accepted."
Carter said that he did not consider himself a preacher or teacher, but through leading the student ministry, the affirmation of the church helped him realize the various gifts God had given him.
"After I realized that calling to local church ministry, I changed my program to the biblical studies program," said Carter. "I didn't know I would go to seminary as the next thing on my mind was graduation, not more studies."
Following his graduation, Carter and his wife, Meredith, moved to Louisville, Kentucky, so he could pursue Master of Divinity and Doctor of Philosophy degrees at the Southern Baptist Theological Seminary. While at Southern Seminary, Carter continued serving in local church ministry, but began to realize another calling on his life.
"Through my MDiv program, and certainly in my doctoral program, I was able to teach a few classes," said Carter. "I was even able to serve at Campbellsville University as an adjunct professor, and I started to realize that God was preparing me for academic ministry."
Though Carter continued to serve the local church in pastoral ministry throughout his time in Kentucky, he did not feel that he was fully called to pastoral ministry.
"I love preaching and I love making disciples," said Carter. "Even though I loved those things, I wouldn't say I received a call to pastoral ministry. I knew that God was calling me to serve Him exclusively in ministry, but I didn't know what that meant."
Carter and his wife followed God's call again to move back to Mississippi, near Blue Mountain College, to become the pastor at his wife's home church, First Baptist Church of Ripley.
"While I was in Mississippi, I went to a conference where I met with Southwestern personnel and it came on my radar," said Carter. "I began to have conversations with Dr. Dockery who was the interim provost at the time, and I was invited to come teach at TBC, and I am so thankful for that."
Carter joined the faculty of TBC in the spring semester of 2022. Since then, Carter has enjoyed getting to know the students and trying to invest in their lives as much as he can.
"I think that my educational philosophy is that what I am doing is part of the Great Commission in the sense that we are making disciples and teaching them all that Christ has commanded us," said Carter.
Carter believes that the school not only accomplishes practicing the Great Commission in preparing disciples, but also in helping churches "especially with this college, which uniquely sits on a seminary campus."
Carter added, "We are doing a major part in coming alongside local churches to assist them in the mission of the Gospel."
Carter said that teaching is more than a "content dump" for him. He believes that it is more about a "transformational engagement with the truths of the Gospel."
William Beckham, a Bachelor of Arts in Humanities and Master of Divinity student in the five-year degree program at TBC and Southwestern Seminary, said that Carter's teaching style is "thoroughly biblical."
"Dr. Carter likes to give the content, but encourages us to ask questions," said Beckham. "He really emphasizes the authority of God and of God's Word over all things and he encourages us to do the same."
When not teaching, Carter enjoys fishing in various places throughout the area.
"I love to fish," said Carter. "I haven't been very successful with fishing in Texas yet, but anytime I get the opportunity to fish, I'll accept it."
Carter added that another hobby has become disc golf as he can enjoy it with his sons.
"It's been a lot of fun to do that in the evenings with my sons and just walk the woods, talk, and have fun," said Carter.
Carter wants students to grow in the knowledge of Christ through the teaching of theology. Not just so that students can get good grades, but that they can grow spiritually.
"That is the fuel that drives me to take what can be difficult doctrinal things and keep all of them in mind," said Carter. "To put it in such a manner that students can flourish and grow that leads them to missiology but also to doxology."
Carter has been in many roles and many places throughout his life and career, but he has followed God's will throughout that time. He believes TBC is the place for him to make the largest impact for the Gospel in this season of life.