Prestonwood Pastor Jack Graham encourages seminary family to be filled with the Spirit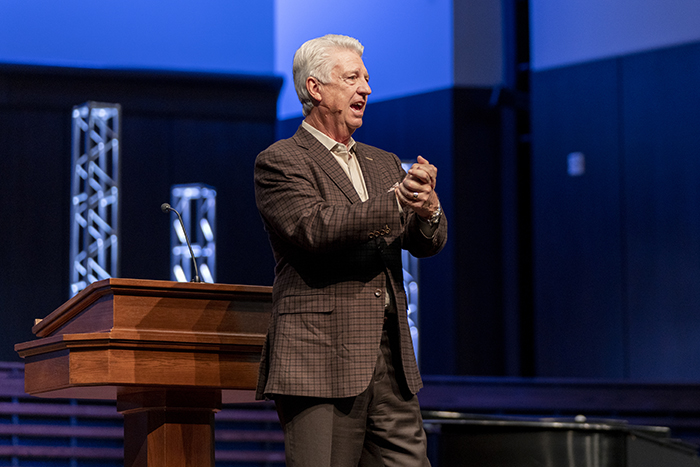 "'Not by strength or by might, but by my Spirit,' says the Lord of Armies" (Zechariah 4:6). 
Jack Graham, pastor of Prestonwood Baptist Church in Plano, Texas, reminded students and faculty at Southwestern Baptist Theological Seminary of this foundational truth for ministry during his chapel address, Sept. 19. Preaching from Zechariah 4:6-10, in which the Lord encourages Zerubbabel to finish the work of rebuilding the temple, Graham encouraged the Southwestern Seminary family to rely on the Lord for every task, both large and small.
Graham, a two-time graduate and distinguished alumnus of Southwestern Seminary, as well as a former president of the Southern Baptist Convention, was joined in the service in MacGorman Chapel by Prestonwood worship leaders, led by Michael Neale. Both Graham's sermon and the worship songs emphasized the need to be filled with the Spirit.
"It's not the might of armies or the power of personality; it is not the ability of man but the power of God that moves among us that changes everything," Graham said.
Noting that Zerubbabel had worked many years to rebuild the temple but had little to show for it at the time of Zechariah's prophecy, Graham shared the Lord's encouragement to Zerubbabel that He would finish what He started, and He would do so by His own might.
"So often, we work our fingers to the bone," Graham said, "and all we have is a big hole in the ground to show for it, and we wonder, 'Why? Why, God?'
"God wants to fill us with His Spirit and use us for His glory. And it is in the filling of the Spirit and the fresh fire of the Holy Spirit that we are enabled to do the work that God has called us to do."
Graham related his early experience as pastor of Prestonwood, explaining that, in those days, the congregation was dealing with significant hurt stemming from the departure of their previous pastor. But over time, the church started growing again.
"I think one of the reasons that God was able to renew and restore Prestonwood in those days is because we were so desperate for God to move," Graham said. "It was out of our brokenness that we discovered the power of God. And we knew that if God did it, it would get done."
Next calling attention to verse 10, wherein Zerubbabel is encouraged not to despise the "day of small things" when it seems like little work is getting done, Graham explained that God uses such days to sanctify His servants.
"In the day of small things, learn everything you can," Graham said. "Take it all in. Experience it. Soak it in. And what God gives you to do, whether it is large or it is small, do it to His glory."
"People ask, 'Did you expect to be a pastor of a church like Prestonwood?' Not on your life; not one second," Graham said.
"What I did expect to do was to preach Christ to win as many people to Christ as possible personally, and train and develop a church that would be witnessing to the world, to our neighbors, to the nations. What I did expect was that God's Holy Spirit would use me to whatever extent He desired."
Graham concluded by recalling an experience he had in chapel while a student at Southwestern Seminary. The day's preacher asked the chapel audience, "Are you, right now, filled with the Holy Spirit?" Graham exhorted his listeners to consider the same question.
"God can't use us until we're usable," he said, "and we're usable when we are full of the might and the power and the grace and the glory of God. … The same grace that saves us is the same grace that calls us and keeps us doing what God has called us to do."