Rankin accentuates Great Commandment and Great Commission as motivation for missions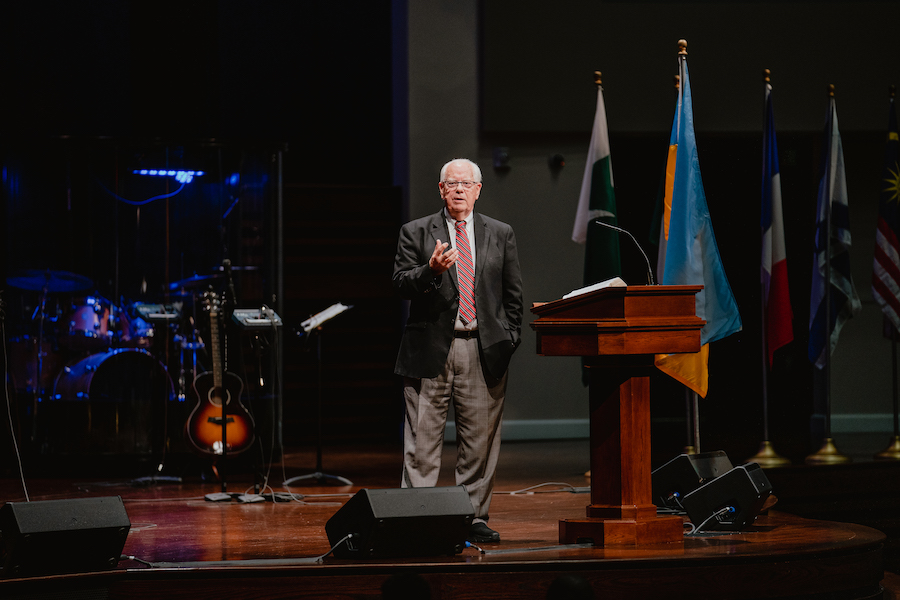 Open one's eyes, love God and neighbors, and accept God's call to spread the Gospel among the nations preached Jerry Rankin, president emeritus of the International Mission Board, during his Sept. 7 chapel message at Southwestern Baptist Theological Seminary and Texas Baptist College.
In his introduction of Rankin, President David S. Dockery expressed his delight to have the Southwestern Seminary alumnus back to preach on campus.
"He crisscrossed the globe many times taking the Gospel, encouraging missionaries, helping those who were planting churches, and bringing back a good word for all of us so we could pray faithfully for those who were serving around the world," Dockery said.
Rankin's chapel sermon was part of Global Missions Week, which has included welcoming International Mission Board missionaries from all eight affinity groups across the world to engage the campus community with the need to take the Gospel to the nations.
Rankin preached from 1 John 3:16-18 and linked those passages of Scripture with the Great Commandment and the Great Commission.
Rankin mentioned that students often inform him that they want to serve on missions but do not believe they have received the call from God to do so.
"It was a mission that was born in the heart of God before the foundation of the world," Rankin said. "It's not a matter of understanding our mission or even the urgency of the mission, but it's the motivation for going and being part of fulfilling that mission."
Rankin drew from John 4 and the story of the woman at the well.
"Jesus commanded them to 'look,'" Rankin explained. "To open their eyes, to see the people around them, to see the world as God sees them. To see the lostness because they would never be motivated to go or do anything about it until they saw the fields, the needs, the lostness of people without Jesus Christ."
Rankin implored the Southwestern community to look beyond their immediate surroundings.
"The world that God knows, loves, and died to save isn't just our world of steeple churches, expressways, shopping malls, parched brown lawns with beautiful homes in Texas," Rankin said. "It's a world of refugees fleeing war-torn countries like Ukraine and Syria, those who are suffering disasters like the earthquake in Turkey, the multitudes, literally, more than a billion people who live in unreached people groups in darkness, never knowing that there's hope beyond what they know now."
Rankin encouraged the congregation to see a world where God is working today even in the midst of current events.
"God is using it as sovereign over the nations to turn the hearts of people to search for something that will give hope and security that can be found only in Jesus Christ," he said.
Rankin then referred to Scripture when the Pharisees posed the question of what the greatest commandment is. Jesus answered with what is now known as the Great Commandment to love God with all of one's heart, soul, and mind and to love neighbors as themselves.
"And just so there would be no misunderstanding, He told the story of the Good Samaritan to illustrate that neighbor that we're to love are not those that live in our community and fellowship with that look like us but of people with other races and ethnicities," Rankin said. "They're our neighbor in humanity, and we're to love them."
Rankin mentioned that it has been said that the Great Commandment and the Great Commission are inextricably linked because "we'll never be motivated to fulfill that commission of our Lord to disciple the nations until we love them."
"You say, it's not natural to love people we've never even heard of, never even seen, or cannot even pronounce the name of the people group," Rankin said. "It's not, but it is God's nature to love them, and He does. That's why we are commanded to love God with all our heart and mind so the love of God to the lost nations and peoples of the world will flow through our hearts out of our love to God until we begin to love them."
Rankin said love makes possible the phenomenon of sacrifice.
"We were once lost in sin that gives us a new life that compels us to want others to know what we have experienced in knowing Jesus Christ is the compulsion to fulfill the Commission of our Lord," he said.
Referring to the Great Commission, Rankin emphasized the portion of the passage that grammatically possesses an active verb to "make disciples."
"But it is not a command as we often quote it that we're commanded to 'go,'" Rankin explained. "It's a participle. What Jesus is literally saying is 'as you are going, make disciples, baptize, teaching.' He commanded us to live in a way that our lives are a witness, always sharing the Gospel, bringing people into the Kingdom, and discipling them and reaching a lost world."
In closing, as Rankin referred to the sermon text, he said the remaining passages of Scriptures posed four questions which began with "what do you have?"
"What's the greatest good you can have in this world," Rankin questioned. "It's to know Jesus Christ. Your salvation. There is no material benefit or blessing greater than that."
Rankin stated the second question is "what do you see?"
"What greater need does anyone living today our brother in humanity in need, than the need for Jesus, to know God?" Rankin expressed. "Do you see him? Do you see the multitudes and the lostness? Yes, they're here but around the world those that have no opportunity to know and hear."
Rankin said the third question is implied, "What do you give?"
"In other words, what do you do about it and how do you respond to the lostness and people in need of the Gospel," Rankin explained. "If you have been born-again as a child of God and are here sensing God has called you to serve Him in Christian ministry, why is it that you've never considered going where the need is greatest to a lost world where people have never heard the Gospel?"
He said the questions culminate to the fourth question, "How much do you love?"
"For how can you say the love of God is in you and close your heart to those in need of what you have?" he concluded.
Rankin served 23 years alongside his late wife, Bobbye, in Indonesia, Thailand, Singapore, and India from 1970 to 1993. He held the position of president of the International Mission Board from 1993 to 2010. In 2005, Rankin was a Southwestern Baptist Theological Seminary distinguished alumni recipient. He possesses a Bachelor of Arts from Mississippi College and a Master of Divinity degree from Southwestern Seminary.
Rankin's entire message can be viewed here.
Chapel is held every Tuesday and Thursday morning at 10 a.m. (CT) in MacGorman Chapel on the campus of Southwestern Seminary and TBC. Chapel may be viewed live at swbts.live.