Stinson elected provost, vice president for academic administration at Southwestern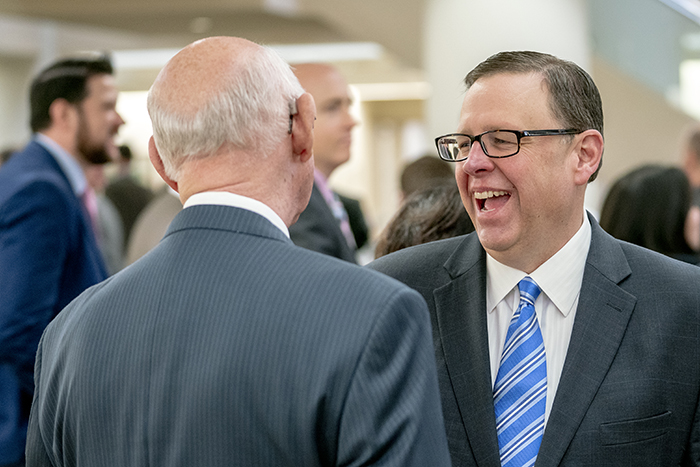 Randy L. Stinson has been elected provost and vice president for academic administration at Southwestern Baptist Theological Seminary. Stinson was recommended to the seminary's board of trustees by the seminary's Academic Administration Committee, and the board voted to approve the recommendation during a special called meeting, Feb. 27.
"I could not be more excited to have Randy Stinson with me to serve as provost at Southwestern Seminary," said Adam W. Greenway, newly elected president of Southwestern. "Having worked for him for the previous six years, I've seen firsthand his leadership, humility and desire to serve faculty and students in his previous position. I have every confidence that with Randy Stinson as Southwestern Seminary's provost, this institution will be known for academic excellence within a deeply Christian culture where servant leadership is not only taught but modeled."
Stinson previously served as senior vice president for academic administration and provost at Southern Baptist Theological Seminary in Louisville, Ky., as well as Basil Manly Jr. Professor of Leadership and Family Ministry. He is a recognized authority on the subject of biblical manhood and womanhood, and regularly speaks at conferences on the subjects of parenting, marriage and men's leadership.
Stinson completed his bachelor's degree at the University of South Florida, his Master of Divinity at Southeastern Baptist Theological Seminary in Wake Forest, N.C., and his Master of Theology and Ph.D. at Southern Seminary.
Before becoming the provost at Southern, Stinson served in other administrative roles for the seminary, including dean of the School of Church Ministries. He is also a senior fellow for the Council on Biblical Manhood and Womanhood, research fellow for the Ethics and Religious Liberty Commission, and active member of the Evangelical Theological Society.
Stinson co-authored the book Stand Up! A Guide to Biblical Manhood and co-edited Trained in the Fear of God, and has contributed to various other titles as well. He was ordained for ministry at Idlewild Baptist Church in Lutz, Fla., in 1990 and served in multiple churches in youth and pastoral ministry throughout the 1990s.
"Randy Stinson is a man of integrity, industry and ingenuity," says Ken Whitten, pastor of Idlewild Baptist Church. "He has deep convictions about raising godly families and models the balance of parenting and preaching extremely well.
"It has been my joy to have been his pastor and friend for years. He is a recognized authority on the subject of biblical manhood and womanhood and speaks about parenting, marriage and men's leadership. It has been my experience to observe Randy as a strong, organized leader who loves the local church and lives the Gospel out in the everyday arenas of his life. He will be a gifted asset and a great provost to a wonderful seminary. Southwestern will be blessed to have Randy Stinson and his family join the Southwestern family."
Stinson has been married to his wife Danna since 1991. The couple has eight children, including four adopted children—Gunnar, Georgia, Fisher, Eden, Payton, Spencer, Willa and Brewer. In his spare time, Stinson enjoys hunting, fishing and encouraging his children in their pursuits of baseball, tennis and lacrosse.
"Randy and Danna Stinson are two of the most unpretentious, sincere, godly leaders that Nicole and I know," says Nathan Lino, senior pastor of Northeast Houston Baptist Church and a long-time friend of Stinson. "They are full of grace and truth. They are kind and compassionate. They are Kingdom-focused. We are very excited that the Lord is calling them to Southwestern."